How To Get Your Startup Funded Masterclass Series
This four-session course is a recorded version of the live course we offered in the past. It will provide you with the information you need if you are considering raising capital for your business. Each session covers an important aspect of the fundraising process, helping you understand the best options for financing the growth of your company.
Learn from real early stage investors what they look for in a startup investment opportunity and how to get them excited about investing in your company. Develop a strategy to support the capital needs of your growing company and attract the kind of investors who bring added value to your business for the long term.
Session 1
Attracting Funding: What Do Investors Look For In A Startup?
What makes a company "investable"?
Is your team ready for funding?
What kind of returns do investors look for?
How do I prove my business is "scalable"?
Session 2
Capital Strategy: Planning For Healthy Growth With Funding
How do I calculate my startup valuation?
How much money do I need to raise?
When is the right time to raise money?
What is the right security to issue to raise money?
Session 3
The Perfect Pitch: How To Get Investors Excited About You
What needs to be in my investor pitch?
What are the most important things to cover in my pitch?
What pitch format do investors prefer?
What not to do in an investor pitch.
Session 4
Demo Day Recording
Select companies pitched to investors
Your Instructor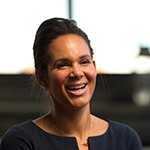 Erica has been an early-stage investor for over a decade and also started and sold her own company in the health & wellness space, Mamatini. Erica developed her understanding of how to get great products to market while Managing Director of the New York City DreamIt accelerator, where she worked closely with some of today's fastest growing tech startups helping them get off the ground.
She was also the founding Executive Director of Golden Seeds, an early stage venture capital investment group and founding Executive Director at STAR Angel Network, a venture investment network for athletes and celebrities. In that time she has made and managed investments in more than 50 startups.
Erica holds an MBA in Finance from Columbia Business School and a BS in Business Economics from UCLA.
Frequently Asked Questions
Why is this course important?
There are over 500,000 new companies that launch every month in the US, but less than 1% succeed to secure funding. As a result, over 65% of these companies fail due to lack of capital. Entrepreneurs new to the fundraising game don't really understand what it takes to raise capital. There is a lot of psychology and strategy that comes into play and these are all things that you will learn from this course.
What can I expect to learn from this course?
Knowledge is power. Once you complete the course you will be in a position to launch your fundraising efforts and increase your chances of success. By learning about fundraising best practices, you will build your confidence and that will come across during investor meetings.
Are there any prerequisites?
There are no restrictions to attend this course. Anyone that is interested in having access to this knowledge can attend. Regardless of where you are in the world, you can still attend!